Anna Jurek
Administrative Assistant, Accounting
ajurek@knudsonlp.com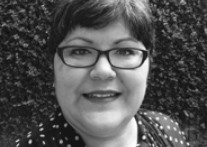 Hometown:
Houston, TX
All-time favorite musician, movie, or book?
If anyone knows me, they know I like comfort zones the best – I do change with the times but I most definitely like the 80s era; with that said…
Musician: Anything and everything 80's.
Movie: Anything 80's, weren't they all kind of silly looking back now? Back to the Future, Valley Girl, Breakfast Club & Caddyshack.
Book: Stephen King and Tom Clancy are my favorite writers, so anything they write are my favorites.
How do you give back?
My grandson recently started the public school system and because he loves his 'Gigi' he always ask me to come to his school functions; which in turn gives me the opportunity to volunteer my time. He loves to help people who are not as fortunate, as he states, and he always wants to give them his unused toys so we 'help' by collecting toys and clothes and taking to our local shelters.
Favorite thing about working in your industry?
Working in the accounting department gives me a view into what everyone is working on from the ground up and/or which projects are already streamlining; plus the interaction with the clients.